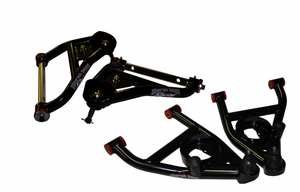 Combine the upper and Lower control arms and vastly improve the handling and looks of your Hot Rod Nova! Upper and lower control arms are sold together in this combo pack! For separate control arms, see below: 
Fabricated from Heavy Duty 1-1/4″ Dom tubing the Church Boys Racing LLC. Tubular Upper control arms for the 68-74 Nova come with Billet, Nickle plated cross shaft, Stainless Bushing retainers and high Durometer, grooved polyurethane Bushings.
Header clearance is improved with a compact bushing design. Our upper arms have an improved geometry for better handling and less overall tire wear. Proudly Made in the USA!
The Church Boys Racing LLC. Tubular Lower control arms feature 1-5/8″ tubing for maximum stiffness and good looks. Our control arms come assembled with Low deflection Polyurethane bushings and grease fittings. The spring pockets will accept all the stock components and even have provisions to allow you to install aftermarket shocks without having to grind for installation clearance. Proudly made in the USA!