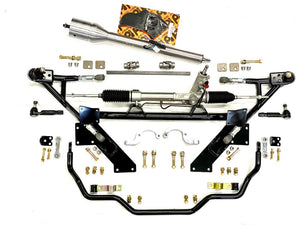 Current Lead times are 6-8 weeks
Enjoy updated steering with the Church Boys Racing's "Basic" bolt in Rack/Pinion conversion. This "Basic" kit provides you with everything needed to completely upgrade your old steering.  Learn to enjoy your Nova with a refreshed sense of confidence that when you turn the steering wheel the car will actually turn as expected. No more sloppy back and forth play in the wheel while driving at highway speeds. Parallel parking and simple parking lot maneuvering are made much easier with the manual or power version of racks.
Along with unsurpassed handling your new Church Boys Rack/Pinion kit will clean up the engine compartment by removing all of the old steering linkage. This allows the use of virtually any small block oil pan of your choice, no more deep sump pans for scraping the pavement with. Even the popular LS engine now has more than enough room to find its way between the frame rails. With out the extra steering linkage under the engine headers and exhaust become easier than ever to install.
The basic kit comes with everything pictured above:
Paintable steel, tilt, floor shift Ididit column,Floor support bracket, proper wire harness adapter, 2 Borgeson joints, DD shaft, Power or Manual rack and pinion, outer tie rod ends, C-N-C steering arms, Tubular cross member, PhaseII lower control arms and a 1-1/8" sway bar.
PHASE II***** lower arms eliminate the use of the eccentric bolt and also eliminates the factory style of ball joint for a better more reliable screw in ball joint that is rebuild able and adjustable!
New and Improved Design!
1-1/8″ sway bar optimizes tire clearance for larger tires.  Our Brand New DSE Power Rack is Detroit Tuned and comes with  2.5  turns lock to lock.
Notes:
67′ Models receive a male spline adapter to convert to rack steering

62-66 Models receive the proper steering shaft support bushing
For orders/tech questions reach us at: (330) 727-4727

Quick Rack/Pin Conversion Facts
5 lug spindles are required (call if trying to use 2" drop spindles)


Compatible with after-market brakes

Eliminates the steering linkage under the engine

Front sump factory style pan is NOT compatible.

Rear sump pan is required. SBC front sump depth 3.75" Max


Can NOT be installed with a 6 Cylinder engine without modification to a rear sump oil pan....manual rack only.

LS engines fit great with the use of the F-body oil pan Or Holley 302-2 pan


Retains the stock appearance of the engine compartment 

Works with Stock upper and after market control arms

2.5 turns lock to lock for the power set up. 4 turns for the manual steering.


You will have to provide the pump and lines for the power rack. Pump available upon request.


Easy to install using factory mounting holes

Semi Gloss Black

Installs in a weekend!