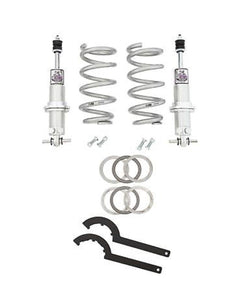 Made in the USA!

Viking Performance Double Adjustable Front Coil Over
450 Spring Rate
Current wait times are 3-5 weeks.

Application:
1968-1974 Chevrolet Nova / GM X-Body
Small Block: Handling Package
Big Block: Drag Race Package
Please see application guide below to review Handling / Weight - Spring Rate Chart

This front coil-over kit from Viking Performance comes with A224 double adjustable shocks, 10TP450 Specialty GM 450lb coil-over springs, and Spanner Wrench!

This kit is designed for Handling use with a Small Block GM or Drag Race duty use with a Big Block GM!
---
If you can't find the right kit for you, or have questions on which setup is best for your application, contact us and we'll be happy to see if we can put a kit together to fit your needs.

About The A224 Viking Shocks
Double Adjustable
Upper Mount: Stud
Lower Mount: T-Bar
Compressed Height: 8.83"
Extended Height: 13.20"
Shock Stroke: 4.37"
Recommended Ride Height: 10 5/8"-11 3/8"
Coil Springs
Ultra-lightweight
High travel
High tensile spring steel
Manufactured to precision tolerances
Lifetime guaranteed to remain within 2% of the original free height and rate
Made in the U.S.A.
Other Features: 
All Viking shocks are double adjustable allowing the user to independently adjust compression and rebound
Huge adjustment range allows the user to adjust settings for a comfortable cruising to high performance racing, and everything in between
Evenly spaced valving adjustments from click to click
19 positions of compression adjustment and 19 positions of rebound adjustment for a total of 361 different valving combinations
Lightweight aluminum twin-tube design with a sleek clear anodized finish
 Adjustment knobs: Labeled with a "C" for compression and an "R" for rebound
Ride height adjustable. Increased range of ride height adjustment over most other brands. Tight tolerances on threads provides for easier ride height adjustments. Left hand threads between the base and the body ensures that the shock doesn't come apart when adjusting ride height, as can occur with certain other brands.
Aluminum, precision machined piston with deflective disc technology and a PTFE / bronze piston seal
 Three-step sealing system
 5/8" hard chrome plated, center-less ground piston rod
Each shock is dyno tested and serialized (individual serial # on each shock)
All shocks can be rebuilt or re-valved by the Viking factory or any authorized re-builder
Two year materials and workmanship warranty!
About The 10TP450 Viking Springs 
450lb Rate
Upper Inside Diameter: 3.50"
Lower Inside Diameter: 2.50"
Free Length: 10"
End Style: Pigtail
Powder Coated with a Chrome Appearance
Other Features: 
 Viking's ultra-lightweight, high travel springs are designed with an expanded body diameter for unsurpassed performance. Over a 25% weight savings over some other brands in the market!
Manufactured from high tensile spring steel with a sleek silver powder coat finish as standard!
Lengths and rates are clearly marked on springs
Lifetime guaranteed to remain within 2% of the original free height and rate under normal operating conditions. With Viking you will not get overlapping spring rates, like you may with manufacturers that only hold a 5% tolerance (a 2 1/2 times larger tolerance window than Viking!)
---
Due to weight differences in the Motor Size and Handling Behavior Viking has different part #'s for different Applications. Please make sure to select your desired choice when adding this product to your cart. 

250
Small Block: Xtreme Light
Big Block: N/A

350
Small Block: Drag Race
Big Block: Xtreme Light

450
Small Block: Handling
Big Block: Drag Race

550
Small Block: Xtreme Heavy
Big Block: Handling