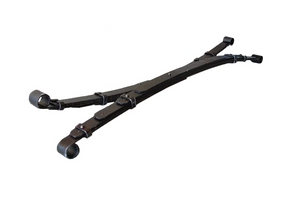 The Church Boys Racing LLC. replacement leaf springs for the 62-67 Nova is more than just a replacement. With an exclusive 5-1/2 leaf stack up you and your nova can hit the turns or drag strip with confidence. We have a 185 pound spring rate that will help keep your car where it needs to be. With the use of the 5-1/2 leaf stack up you will not get the harsh, wash board ride, like many other higher rated springs. Also you get the addition of the 1/2 leaf in the forward section of the leaf springs. This will take away the unwanted spring wrap, which causes wheel hop, no other company offers such an improvement for traction with a simple bolt in replacement spring.
Your new springs will come with the necessary U-bolts and poly urethane bushings for the front eye and rear shackles (not shown). Like our other products you can rest assure that our springs are 100% USA made!
The above photos show the 2″ drop version.
Factory original springs will have sagged over the years to being closer in ride height as the 2" drop springs. Wagons will sit lower due to their extra rear weight. Stock height is recommended.


Replaces the stock 95  lb.sedan/coupe spring and the 126 lb. wagon spring

Reuses the stock lower spring plate